I can honestly say that one of my top ten reasons for starting a blog was so that I could participate in Farley's "Currently." I have been counting the days until December....so here goes
!!
Okay...so I just came back from a HUGE lunch at Buffalo Wildwings. One of my favorite things in da world is spending a Saturday afternoon with a half-dozen Salt 'n Vinegar wings, an order of potato wedges (with sour cream) and a foamy adult beverage. Oh yeah...and my hubby and kids
!!
I can even tolerate some drama (eye-rolling; sighing) from the teens when a greasy wing is in-hand
!
I may have overdone it today...tummy is talking back.
I have an amazing group of children this year. They are smart, sweet, kind to each other, and just a lot of fun to be around! They make me laugh every single day
!
I can be quite the procrastinator when it comes to holiday decorations. When I was a kid, I was the number one "Elf". I loved the holidays and couldn't wait to decorate every wall and surface in the house with holiday cheer. Nowadays....I just dread it. All I can think about is....in a few weeks I'm gonna have to take all this stuff down and put it away. Quite the Grinch...I know
!
This is a crazy time of year. Our report cards go out in a week. Assessments need to be done. Classroom observations....ugh. Not to mention all the stuff associated with Christmas...shopping, shopping, shopping
!!
I just need 1 more hour in the day to get it all done
!!
I haven't even started my report cards...I can't talk about it...too depressing.
Finally...my RAK: Holly from Criss Cross Applesauce in First Grade is a teacher at my school. We started working together a couple years ago, and I don't really know her that well. I do know that she is an awesome teacher (I mean, I get her kiddos after she has them...so I know
!
). She is also a blogger extraordinaire. She doesn't like to "advertise" her greatness...so I thought that I would, while thanking her at the same time
!!
Her bloggy greatness was another one of the reasons I began my blog...she inspired me with her super fun, super cute, super wonderful and helpful little blog. Okay...I was a little jealous (still am), but sometimes that's what I need to get going on something I've always wanted to do. Holly also supported me by featuring me on her blog my very first week up...which sent many, many followers my way. She definitely didn't have to do that, but I'm so glad she did. Holly really represents the spirit of professional teaching blogs...she shares openly and honestly and welcomes and encourages newbies like me with open arms. So, for my RAK...I am thanking you Ms. Wazy-loo
!!
Also, don't be surprised if a little something wonderful appears in your mailbox on Monday (okay....maybe Tuesday...I told you that I am a procrastinator)
!!
If you haven't visited Holly's blog....you really should...its well worth the visit...I promise
!!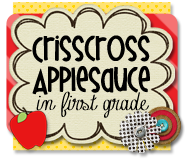 CLICK ME, CLICK ME!!